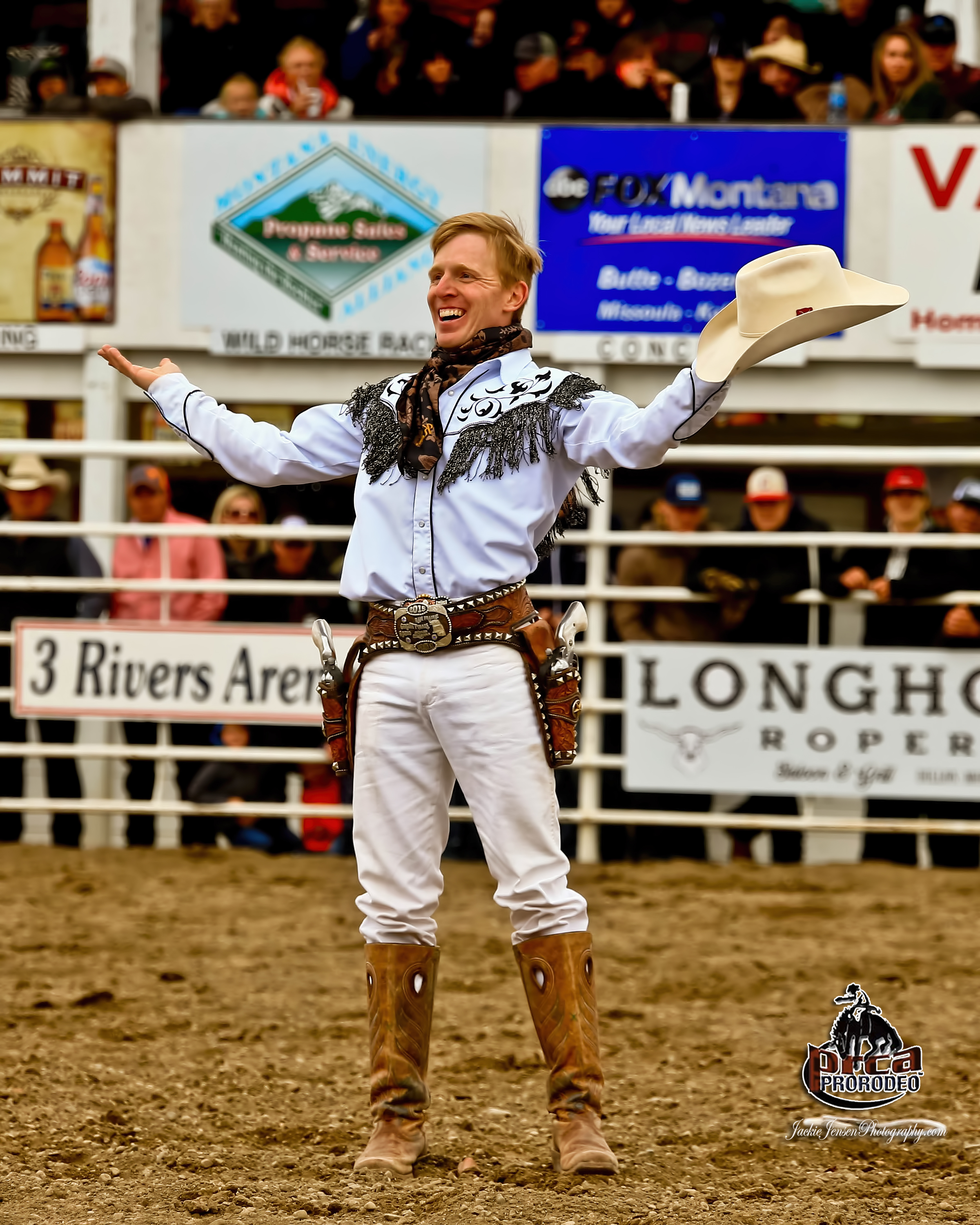 World Champion Rodeo Star - Rider Kiesner
 The Art of Trick Roping, Gun 
Spinning, and Whip 
Cracking
The Showdown Rodeo (producers of the RAM PRCA California Circuit Finals Rodeo), along with her partners & sponsors, are proud to present Trick Roping Sensation and World Champion Rodeo Star Rider Kiesner!  Rider will perform for our audiences during each of the three performances of the 2018 RAM PRCA California Circuit Finals Rodeo - October 5-7, 2018, at the Antelope Valley Fair and Event Center!  We would also like to ask you to join us in Congratulating Rider on his 5th PRCA Dress Act of the Year Nomination!  You will not want to miss his show!  (For more information about Rider and his journey, please visit his ( website ) and you can follow him on Facebook.
At the young age of 26, Rider has a huge list of accomplishments including: Two time World Champion All Around Western Performer, four time World Champion Trick Roper, and two time World Champion Gun Spinning titles. Rider has performed in 49 states (lacking only Hawaii), Canada, Mexico, Japan, China, South Korea, Taiwan, Hong Kong, Oman, Dubai, Lebanon, and France.  Rider has been featured 5 times at the Wrangler National Finals Rodeo at the Thomas and Mack Center in Las Vegas, Nevada; 6 times at Cheyenne Frontier Days; he toured with the acclaimed and breathtaking Cavalia, the RAM Prairie Circuit Finals, the RAM National Circuit Finals Rodeo in Kissimmee, Florida, and 4-time (now 5!) PRCA Dress Act of the Year Nominee.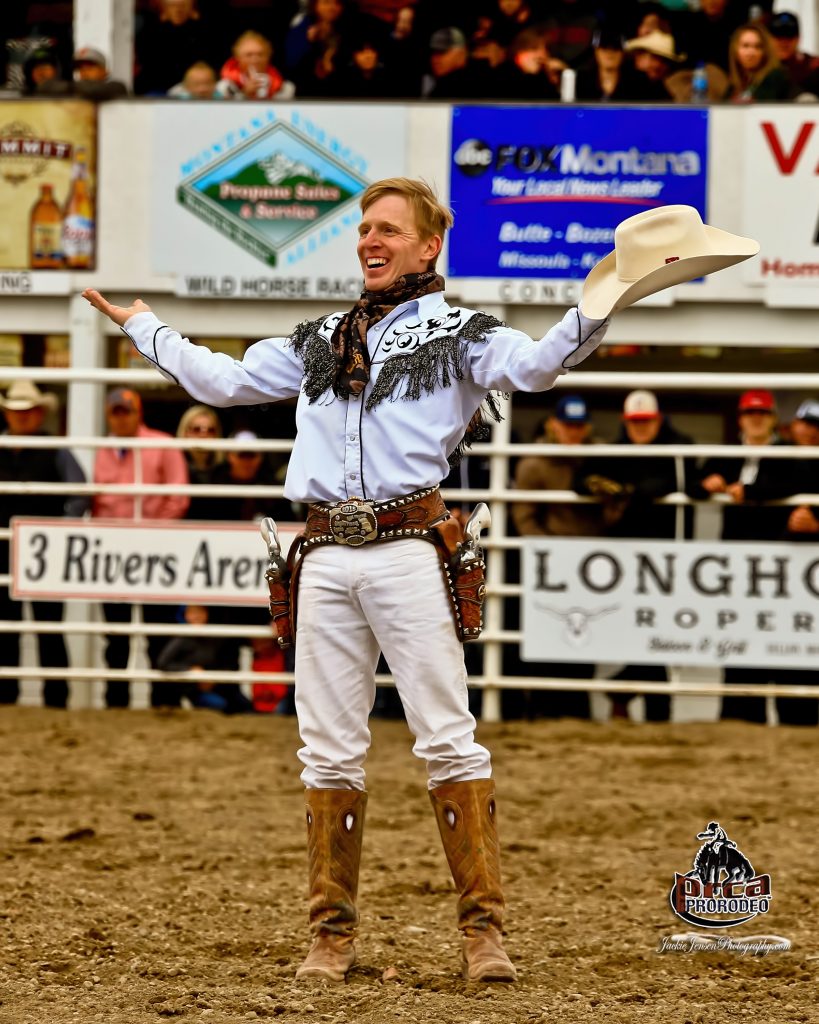 Rider Kiesner has traveled around the world and has been featured at the country's largest rodeos including four times at the Wrangler National Finals Rodeo in Las Vegas, Nevada and six times at the "Daddy of 'em All", Cheyenne Frontier Days.  He performs trick roping. He pairs the wild west skill of roping with art to perform intricate maneuvers with his rope. With his rope, he is able to spin the loop around his body and jump in and out of it. He is so talented that he won the esteemed title of World Champion Trick Roper four times.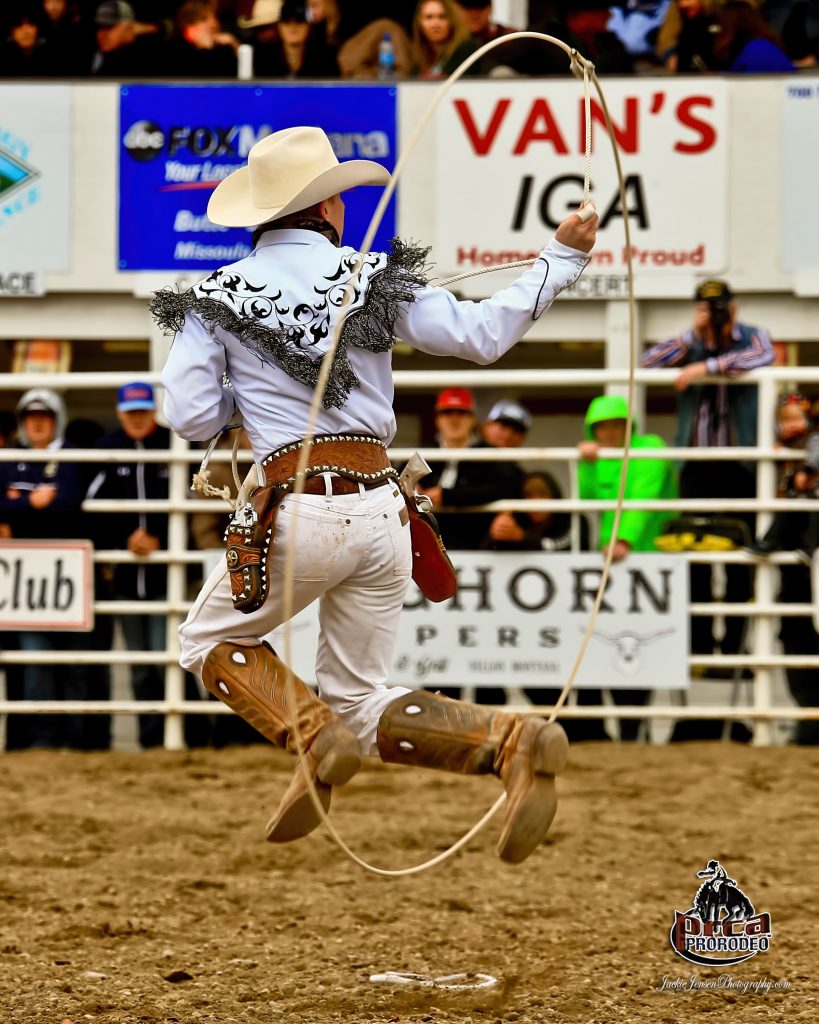 Rider is also very well known for his talent with whips. Whip cracking is very dangerous because the sound of the whip cracking is actually the sound barrier breaking going over seven hundred miles per hour. Rider amazes audiences with a flurry of tricks, including removing a small target from his own head. He won the title of World Champion Gun Spinner for his outstanding skills spinning and tossing guns.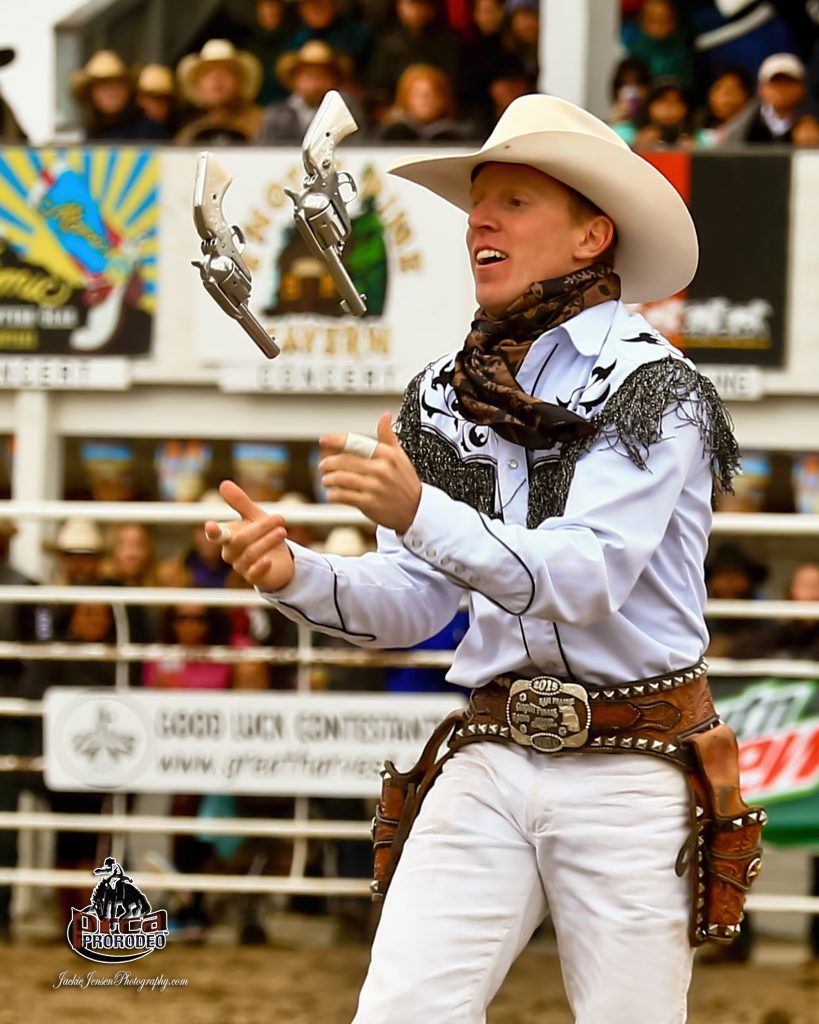 Rider is a fifth-generation cowboy and grew up the son of a horse trainer. He has loved rodeos and western events his entire life. He got his start performing with his family. They traveled around the country performing a variety of western acts.
Audiences are awestruck by Kiser's performances!  We are so excited that he is a part of the 2018 RAM PRCA California Circuit Finals Rodeo!  For all information/tickets, please visit www.cafinalsrodeo.com / avfair.com.  Don't forget to use your promotion code " rodeo5 " for $10 discount on tickets Fri/Sat.