Welcome to the PRCA California Circuit!!!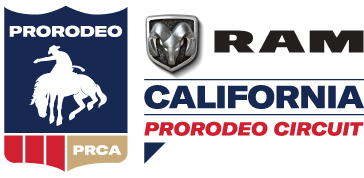 From the Coast to the Sierra Nevadas - From Oakdale to Santa Maria - From Clovis to Rancho Mission Viejo - From Norco to Salinas - From Lancaster to Brawley - From Tehachapi to Poway - AND, and everywhere in between! PRCA Rodeo action promises to be hotter than ever - Especially in California!
The following is a list of the dates (unofficial/tentative) for all of the PRCA rodeos that make up the PRCA California Circuit. It is provided as an informational tool only and provides rodeo websites/social media contacts. Make sure to hit those "Like" buttons on each Facebook page to not only support, but to keep up-to-date with each rodeo as their event gets closer as many rodeos host a variety of events (queen coronations, dinners, dances, concerts kids' rodeos, etc.) in the days/weeks/months leading up to their actual PRCA rodeo!!!! You can also follow many of these rodeos on Instagram and Twitter! Professional Rodeo is hotter than ever in California! Long live cowboys and cowgirls!
Please verify all official dates/locations with the official PRCA website.  For info regarding WPRA Official dates, please visit website.  
Salinas Valley Wine Country Rodeo
King City
02-28-2020 - 02-29-2020
Website
Facebook
Oakdale Saddle Club Rodeo (69 years!)
Oakdale
04-11-2020 - 04-12-2020
Website
Facebook
Red Bluff Round-Up  (99 years!)
(Pro Rodeo Hall of Fame Inductee 2015)
Red Bluff
04-17-2020 - 04-19-2020
Website
Facebook
Lakeside Rodeo (56 years!)
Lakeside
04-24-2020 - 04-26-2020
Website
Facebook
Clovis Rodeo  (106 years!)
(Pro Rodeo Hall of Fame Inductee 2014)
Clovis
04-22-2020- 04-26-2020
Website
 Facebook
Springville Sierra Rodeo (73 years!)
Springville
04-24-2020 - 04-26-2020
Website
Facebook
Gold Country Pro Rodeo
Auburn
04-25-2020 - 04-26-2020
Website
Facebook
Kern County Sheriff Reserve
Stampede Days Rodeo (35 years!)
Bakersfield
05-01-2020 - 05-02-2020
Website
 Facebook
Stonyford Rodeo (77 years!)
Stonyford
05-01-2020 - 05-03-2020
Website
Facebook
Riverdale Rodeo (63 years!)
Riverdale
05-04-2019 - 05-05-2019
Website
Facebook
Mother Lode Round-Up (63 years!)
Sonora
05-10-2020 - 05-11-2020
Website
Facebook
Woodlake Lions Rodeo (67 years!)
Woodlake
05-10-2020 - 05-11-2020
Website
Facebook
Redding Rodeo (72 years!)
(Pro Rodeo Hall of Fame Inductee 2016)
Redding
05-13-2020- 05-16-2020
Website
Facebook
Ramona Rodeo (39 years!)
Ramona
05-29-2020- 05-31-2020
Website
Facebook
Rowell Ranch Pro Rodeo (100 years!)
(Pro Rodeo Hall of Fame Inductee 2014)
Hayward
05-16-2020 - 05-17-2020
Website
Facebook
Valley Center Stampede Rodeo & Festival
Valley Center
05-22-2020 - 05-23-2020
Website
Facebook
Santa Maria Elks Rodeo (77 years!)
Santa Maria
05-28-2020 - 05-31-2020
Website
Facebook
Jurupa Valley Pro Rodeo
Jurupa Valley
06-12-2020 - 06-13-2020
Website 
Facebook
Livermore Rodeo (102 years!)
Livermore
06-12-2020 - 06-14-2020
Website
Facebook
Glennville Round-Up (71 years!)
Glennville
06-09-2019 - 06-09-2019
Website
Facebook
Folsom Pro Rodeo
Folsom
07-04-2020 - 07-06-2020
Website
Facebook
California Rodeo Salinas (110 years!) (Pro Rodeo Hall of Fame Inductee 2008)
Salinas
07-16-2020 - 07-19-2020
Website
Facebook
Sonoma County Fair Wine Country Rodeo
Santa Rosa
08-03-2019 - 08-03-2019
Website
Facebook
Santa Barbara Old Spanish Days
Stock Horse Show & Rodeo (95 years!)
Santa Barbara
08-06-2020 - 08-09-2020
Website
Facebook
Ventura County Fair Rodeo
Ventura
08-10-2019 - 08-11-2019
Website
Facebook
Tehachapi Mountain PRCA Rodeo (57 years!)
Tehachapi
08-14-2020 - 08-15-2020
Website
Facebook
Norco Mounted Posse Rodeo (35 years!)
Norco
08-23-2019 - 08-25-2019
Website
Facebook
Rancho Mission Viejo Rodeo (19 years!)
San Juan Capistrano
08-24-2019 - 08-25-2019
Website
Facebook
Stagecoach Days PRCA Rodeo
 Banning
 09-05-2019 - 09-08-2019
 Website
 Facebook
Marysville Stampede (86 years!)
Marysville
09-14-2019 - 09-15-2019
Website 
Facebook
Coarsegold Stampede Pro Rodeo
Coarsegold
09-14-2019 - 09-15-2019
Website
Facebook
Santa Ynez Valley Wine Country Rodeo
Santa Ynez
09-14-2019 - 09-15-2019
Website
Facebook
Sheriff's PRCA Rodeo (20 years!)
San Bernardino
09-27-2019 - 09-29-2019
Website
 Facebook
Poway Rodeo
Poway
09-27-2019 - 09-28-2019
Website
Facebook
Kern County Fair Rodeo
Bakersfield
09-27-2019 - 09-28-2019
Website
Facebook
RAM California Circuit Finals - Championship Rodeo
Lancaster
10-04-2019 - 10-06-2019
Website
Facebook
San Dimas Charity Pro Rodeo (25 years!)
San Dimas
10-12-2019 - 10-13-2019
Website
Facebook
Industry Hills Charity Pro Rodeo (34 years!)
Industry
10-12-2019 - 10-13-2019
Website
Facebook
Grand National Rodeo Horse & Stock Show (78 years!)
(Pro Rodeo Hall of Fame Inductee 2008)
San Francisco
10-11/12-2019 and
10-18/19-2019
Website
Facebook
Brawley Cattle Call Rodeo (64 years!)
Brawley
11-09-2019 - 11-10-2019
Website
Facebook