Thank You to all of our Sponsors of the 2013 PRCA RAM California Circuit Finals Rodeo
Thank you to all of our Sponsors of the
2013 PRCA RAM California Circuit Finals Rodeo
"Without our Sponsors, this event would not be possible", said Johnny Zamrzla, President of the PRCA California Circuit and Chairman of the Showdown Rodeo Inc., producers of the PRCA RAM California Circuit Finals Rodeo. "We thank each and every Partner, Major Sponsor, Event Sponsor, Friends of Rodeo, and of course, the other Rodeos within the California Circuit who have joined in support of the Circuit Finals".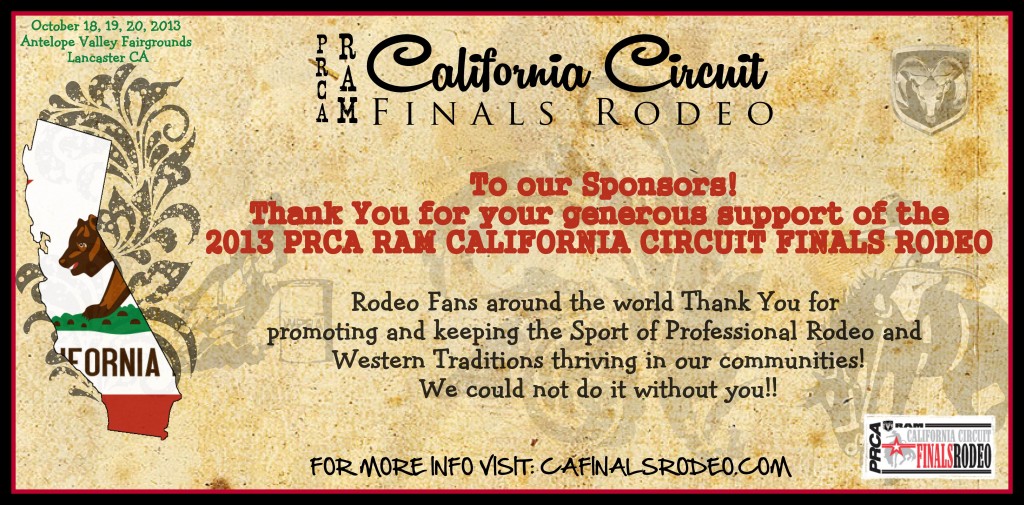 We would like to take this opportunity to "Thank" each and every one of our generous Sponsors!!  Thank you to all of our returning Sponsors and a great big "Welcome" to all of our new Sponsors! 

California Circuit Cowboy and Cowgirls have been on the road, week after week for the past year, to earn the opportunity to compete at their Championship Circuit Finals!  Our community thanks you – People, including contestants, their families, and of course rodeo fans, travel across our state, and even from out of state, to our community for the sole purpose of attending this prestigious and highly anticipated 3-day event.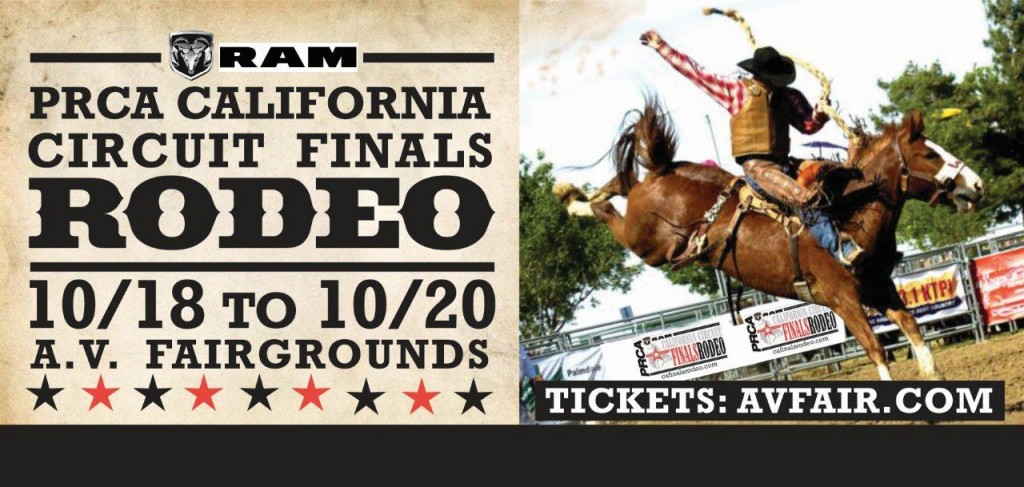 In "Pardner-ship" with the Antelope Valley Fairgrounds and the City of Lancaster, Showdown Rodeo Inc., will produce this family-friendly, community oriented event which includes California Heritage Days! Championship Rodeo, "Rodeo After Dark at the Van Dam Barn Dance", food, BBQ tasting, petting zoo/pony rides, shopping, and so much more! 

Friday night's performance is dedicated to "Patriotic Night" – acknowledging the men and women not only in our armed forces, but our first responders here at home who protect our freedoms and our families.  Saturday night's performance is "Pink Night" and is dedicated to breast cancer awareness.  This is even more poignant since the month of October is "Breast Cancer Awareness Month".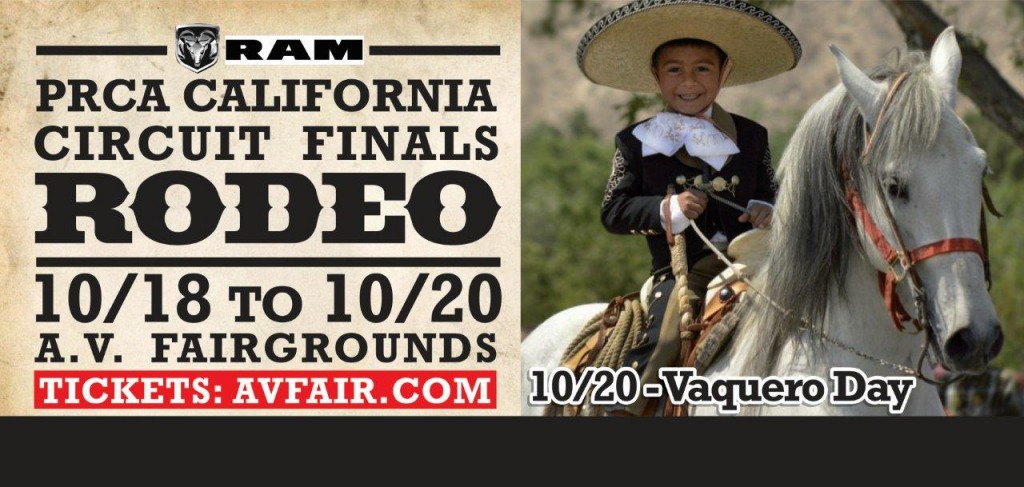 Finally, Sunday is Vaquero Day which will include a special performance by "Asociacion Ecuestre Amigos del Valle", an equestrian group made up of Hispanic riders on beautiful and rare Andalusian horses.
Awards Ceremonies will be held about 30 minutes after Sunday's performance, in the VIP Area - all are welcome!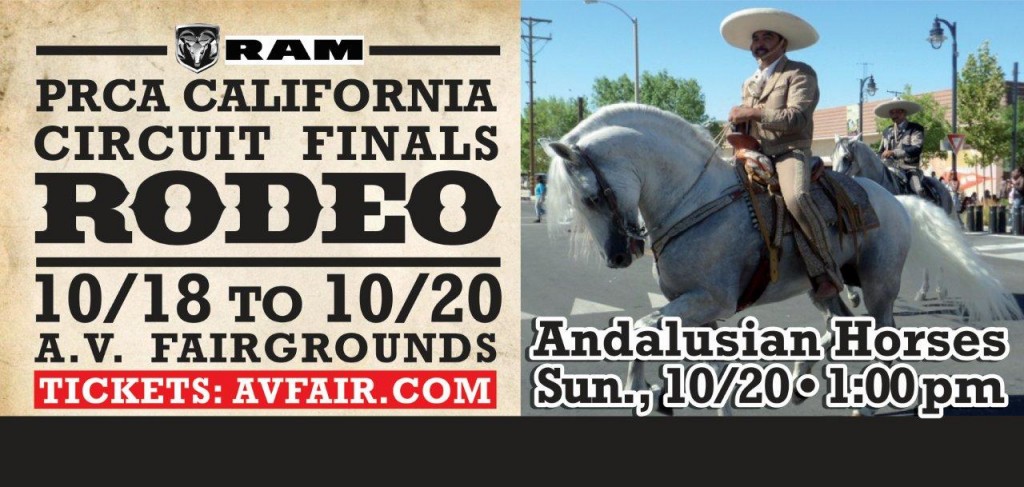 We hope to see you all at the 2013 PRCA RAM California Circuit Finals Rodeo and California Heritage Days, October 18, 19, 20, 2013.
To all of our fans, contestants, friends, and community members – Here are your sponsors for the 2013 Circuit Finals Rodeo.  We encourage you to please support them as they have supported the Circuit Finals and our communities!
Sponsorship opportunities are still available.  If you are interested, please contact Dawn, at [email protected]
Thank You Sponsors!
Note:  For all sponsor "Links", please visit page:
2013 Partners:
Antelope Valley Fair
City of Lancaster
2013 Major Sponsors
Antelope Valley Hospital
Bowe Contractors, Inc.
California Collision Center
Centennial Community
Gary Little Construction
H.W. Hunter Dodge
High Desert Dairy
University of Antelope Valley
Valyermo Ranch
Van Dam Farms
W.A. Thompson Distributing Coors
Western Pacific Roofing Corp
2013 Event Sponsors
97.7 KTPI
A G Sod Farms
American Medical Response
Antelope Valley Harley Davidson
Antelope Valley Press
Boot Barn
Granite Construction
H & M Veterinary Hospital (Official Veterinarian)
Hemme Hay and Feed
J.B. Wholesale Roofing and Building Supplies
Jaqua and Sons Masonry Center
Lane Ranch & Co
Oxford Inn – Lancaster, CA – Host Hotel
Pendleton Whisky
Quartz Hill Garden Center
Stephen B. Marvin Insurance
Stephen B. Marvin Real Estate
The Tire Store
Vallarta Supermarkets (Specialty Act Sponsor)
Wagner Pools and Spas
Wells Fargo Bank
2013 Friends of the Rodeo
Maritorena Farms
Rain For Rent
2013 CA Rodeos Sponsoring the Finals
California Rodeo Salinas
Clovis Rodeo
Glennville Round Up
Norco Mounted Posse Rodeo
Rancho Mission Viejo Rodeo
San Bernadino Sheriff's Rodeo
Springville Sierra