INVITE: ATTN: PRCA CA Circuit Committees and Reigning "Miss" CA Circuit Rodeo Queens
ATTN:  Reigning "Miss" PRCA CA Circuit Queens and PRCA CA Circuit Rodeo Committees:
At the 2018 RAM PRCA California Circuit Finals Rodeo, 22 of our PRCA California Circuit Rodeos were represented/flags presented at the Finals!  We would love to see each and every CA Circuit Rodeo Flag flown at the Finals in 2019.
The Showdown Rodeo, Inc., producers of the PRCA RAM California Circuit Finals Rodeo, would like to invite your reigning "Miss PRCA Rodeo Queen" to represent your rodeo at the 2019 PRCA RAM California Circuit Finals Rodeo. 
The Circuit Finals will be held October 4-6, 2019 at the Antelope Valley Fair and Event Center in Lancaster, CA ( website / Facebook ). 
We thank you for your continued support of the California Circuit and we look forward to welcoming all of our reigning California Circuit "Miss" Royalty.

Our website is www.cafinalsrodeo.com and we would appreciate your support in "Liking" our Facebook Page at www.facebook.com/californiafinalsrodeo.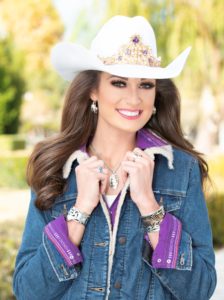 Note:  If your reigning queen is unable to attend, we would like to extend the invitation to our PRCA California Circuit Rodeos to send your rodeo's flag to be presented during the event, along with the other PRCA California Circuit and sponsor flags.  We will ensure the safe return of your flag.  
If you have not done so already, to assist with coordination and preparation, please contact Sandy Travis at [email protected] (cell 805.660.9800) no later than Friday, September 27, 2019.  Information for visiting queens (barn reservations/costs/check-in/attire/host hotel) can be found at (link).  Our host hotel is the Oxford Suites – Use Code: RODEO for rodeo rates! (link).
Thank you to all of the Queens who attended the 2018 Finals to not only present their rodeos' flags but who also helped present the sponsor flags of the 2018 RAM PRCA CA Circuit Finals Rodeo.  You all did an amazing job – Thank you for all of your help and for being such wonderful ambassadors for the sport of professional rodeo.