PRCA Specialty Act - Trick Riding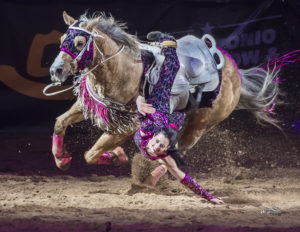 "One of the most accomplished Trick Riders in Pro Rodeo today.... She is a Superstar!!!"
At 26 years of age, Madison MacDonald-Thomas is one of the World's Top Equestrian Athletes in her arena. Born and raised just south of Calgary Alberta Canada but now calls Stephenville Texas home. A seasoned entertainer with over 20 years of experience under her belt, Madison has had amazing opportunities to perform across Canada, the United States and Mexico at World Renown Events and Rodeos.
She has been selected as 8X NFR Contract Act from 2011-2018 she has had the honor of performing at the Wrangler National Finals Rodeo in Las Vegas since the age 18.  In 2017 Madison was also honored as one of the TOP 5 Acts in Professional Rodeo.
​
Madison not only spends her time Trick Riding. When she is not on the road she spends her time going down the road as a WPRA Barrel Racer, Team Roping, Training Horses, Teaching Lessons and spending her free time with all her animals and family! Madison also is a professional Stunt Double that has done work on the CBC Television Series Heartland since 2010! 
EDITORS NOTE: Congratulations Madison on your recent PRCA Specialty Act of the Year nomination. This brings Madison's total nominations to 9!
PRCA Specialty Act - "The Coppertown Clown"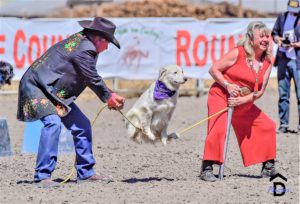 Sit yourself down, and prepare to be entertained! Bert Davis, the Coppertown Clown is here! He's armed with a wacky sense of humor and a wonderfully trained group of dogs and performing in front of a large rodeo crowd is 'old hat' for this veteran entertainer, rodeo clown, barrelman and specialty act. His stage is a rodeo arena and his cast of players' bark and howl; his quick wit, award winning comedy routines and ability to interact with a crowd offers up the promise of tear rolling laughter for his audiences.
Bert Davis, often dubbed the "Clown with all the Dogs" reached the third round in the TV show: America's Got Talent; they were the only animal act to make it to Las Vegas in 2010. Known as the "Muttley Crew" this act features ten rescue dogs, adopted by Bert and his wife, Frannie, all of whom are superbly trained tricksters.
Davis has been working in the rodeo business since 1974, beginning his career at age 16, as the youngest bullfighter in the nation; that was the start of a noteworthy career that has brought a long list of awards and honors for Davis. He has been selected three times to perform as the featured act at the National Finals Rodeo in Las Vegas Nevada. Bert has been nominated for the PRCA Comedy Act of the Year Award several times. Bert has been a PRCA Gold Card member since 1998.
Bert and his dogs have been International Contract Acts Showcase Champions seven times. In 2012 they won every category they entered in the Showcase.
While Davis is a courageous and hilarious performer; it is his numerous dogs that truly endear him to the spectators. Those sidekicks, with their high energy antics make Bert, the Coppertown Clown, one of the best and most-traveled animal specialty acts in the industry. They have gained international notoriety by performing in five provinces of Canada, 43 different States and in Australia.
Not much can throw a funnyman who has faced rampageous bulls on a daily basis for the past 43 years. What keeps this extremely courageous and hilariously talented performer going those thousands of miles, year in and year out? Well, it comes from the heart… Garth Brooks sings "It's the roar of the Sunday crowd" in Rodeo. But for Bert Davis, the Coppertown Clown, it is the roar of any crowd.
Follow Bert Davis, "The Coppertown Clown" and Davis' Muttley Crew on Facebook. Website: www.coppertownclown.com
Special Presentation - Donnie Landis' Lil Bucks Bull Co.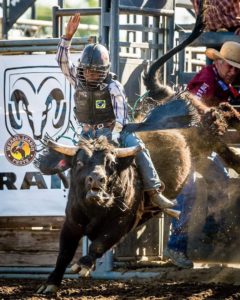 During a break in the action, our 2019 "Man in the Can," Donnie Landis will present "Lil Bucks Bull Co." Lil Bucks Bull Co. strives to bring the smallest of bucking bovine athletes, pair them with young future bullriders and give them the experience of riding an untamed beast! Through Roughstock 101,  youth get opportunities unlike no other.
Some of the bloodlines in the Lil Bucks bull herd go back to the original herd that started the junior bull riders tour in the bucking bull industry in 1997. Also a new addition into the bloodline and bucking string go back to Panhandle Slim and The Great bull "Oscar". The livestock used at the events are tailored to meet the needs of the young athletes.
Miss Rodeo California 2019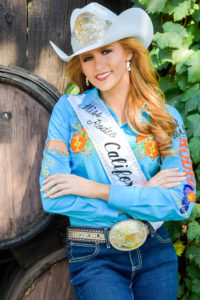 Miss Rodeo California 2019, Madison Wagner, will reign over the 2019 RAM PRCA California Circuit Finals Rodeo.  The RAM PRCA California Circuit Finals Rodeo will be held October 4th (7 pm performance) and October 5th (7 pm performance), Sunday, October 6th (2 pm performance), and she will be on hand for the Awards Ceremony and Buckle/Saddle presentations to this year's rodeo champions and the PRCA California Circuit Year End Champions (about 30 min after Sunday's performance in the Grand Oasis)  at the Antelope Valley Fair and Event Center in Lancaster, California. 
Madison Wagner was born and raised in the small equestrian town of Valley Center, California. She enjoys trail riding, camping, horseback mounted archery, quilting, and roping. In high school, Madison was the President of the local Drama Club, participated in countless productions both on and off screen, and represented her district at the state-level in Poetry Out Loud. In the spring of 2019, she will graduate from Palomar College with two Associates degrees, and in the fall, she will transfer to California State University, San Marcos to complete a Bachelors degree in Chemistry. Madison is an avid supporter of mental health and will use her education to research and develop pharmaceuticals to treat mental illness. Madison has attended her local Valley Center Stampede Rodeo every year since its inception and has volunteered since she was 12 years old. With both parents serving on the local rodeo committee, rodeo has always been a major part of Madison's life. Madison was the 2012 Young Miss Valley Center Stampede Rodeo and the 2018 Miss Valley Center Stampede Rodeo. She represented her hometown rodeo during their first year as a PRCA-sanctioned event and took the Valley Center title to Miss Rodeo California for the very first time. She is incredibly proud to represent her home state of California and strives to be an exemplary representative of the western lifestyle.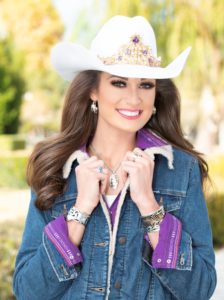 Taylor McNair is 23 years-old and the third Miss Rodeo Mississippi to wear the coveted crown. In addition to the title of Miss Rodeo America 2019, Taylor earned the Appearance, Personality, and Written Test awards along with the Sherry Smith Memorial Scholarship, third place for her scrapbook and was the winner for the Chap Award.

In 2017, Taylor earned a Bachelor of Science in Agricultural Business with a concentration on Policy and Law from Mississippi State University. While attending MSU, she also competed on both the Equestrian and Rodeo teams. Taylor plans to enhance her strong voice for agriculture by pursuing a Doctor of Jurisprudence degree with a Master of Law in Agriculture and Food Law.

During her reign as the official representative of the Professional Rodeo Cowboys Association,
McNair will travel around 100,000 miles and appear at nearly 100 rodeo performances. Along the rodeo trail she'll make appearances at schools, civic groups, and other special events. Attendance at these events is to educate the public and create awareness about the sport of rodeo, its sponsors, and its opportunities. Taylor will also serve as a spokesperson at a variety of promotional events and model in advertisements for key brands, sponsors, and publications of the Western industry.

Taylor is beyond thrilled to wear the Landstrom's Black Hills Gold crown as it has been a dream of her's for many years. Long Live Cowgirls.
SUNDAY ONLY - Escaramuza Yaretzi
Side Saddle Equestrian Female Drill Team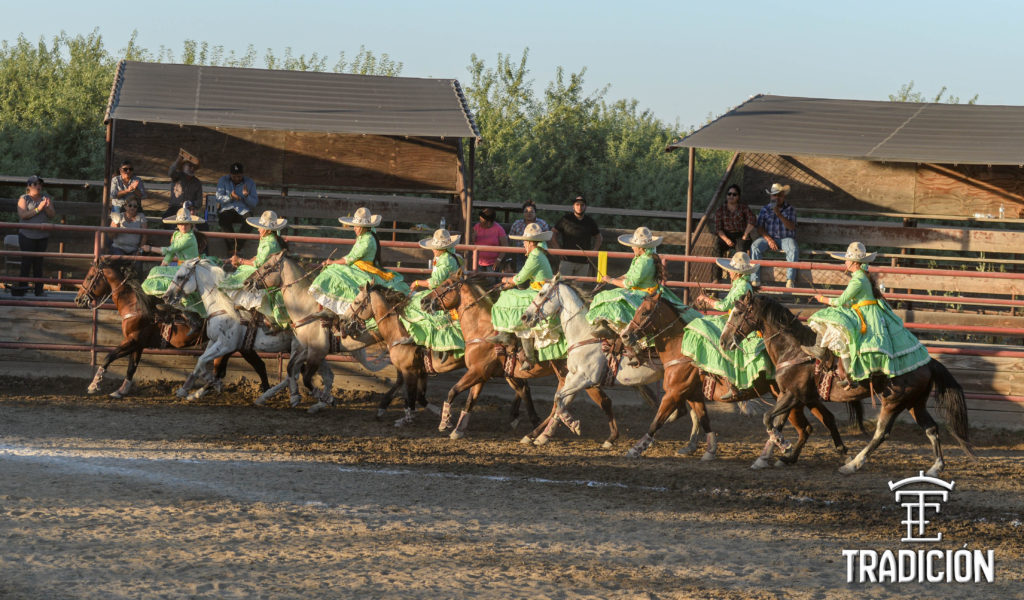 Escaramuza Yaretzi, is a Side Saddle Equestrian Female Drill Team established in the Antelope Valley in June 2017. Escaramuza Yaretzi is the first team in the Antelope Valley, established for competitions with the Mexican Federation of Charreria. For those wonderin, Escaramuza means skirmish in English. This 2019 season Escaramuza Yaretzi has made a great impression in the state of California competitions. We have come in 2nd and 3rd place. Our team consists of 8 female riders, performing 12 excercises. Those excercises are performed at full speed, with dangerous crossings and turns. The riders must know the consistency and perform their excercises in a timely manner to prevent any accidents. The team has to wear matching dresses, hats, and boots, long with their horse attire matching as well.